Family Fun on a Bun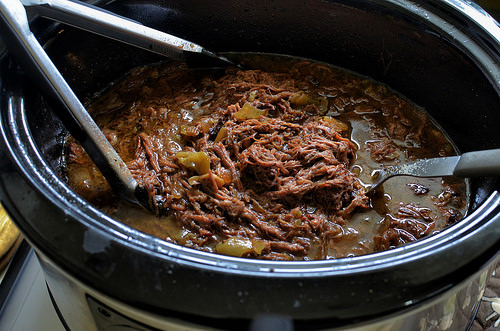 It's family day this weekend: a Canadian holiday to overcome the February blues. Much needed today in -21C (-6F) weather. It is also Valentine's Day, making for a busy weekend.
I just want to eat something delicious, warm and cozy. Something that takes no effort. This weekend I pulled out my slow cooker! Most recipes are 4-5 hours on high, or 6-10 hours on low. Here are some of our family favourites.
Juicy, fall-off-the-bone meat sandwich
Make pulled pork or beef in the slow cooker, served on a bun with sliced cucumber and a side of green apple salad:
Comforting chicken stew
Poultry is incredibly diverse. We wait for the super sale on chicken breasts or thighs, and post-holiday turkeys. Serve over cooked quinoa with steamed asparagus or broccoli and a slice of fresh bread.
Chili
Chili is my go-to because it freezes well as "emergency food". Adding 1 cup of brown rice on the bottom of the slow cooker can help absorb some of the extra liquid from vegetables and gives it more volume (aka servings).  A serving is 1½ cups and is loaded with vegetables if you add finely chopped onion, zucchini, peppers, and mushrooms. Top with ¼ cup of Greek yogurt for extra protein and a heaping tablespoon of salsa.
Let me know which one you tried and what you liked best about it in the comments.
(Visited 83 times)