Delicious Fudgy Brownies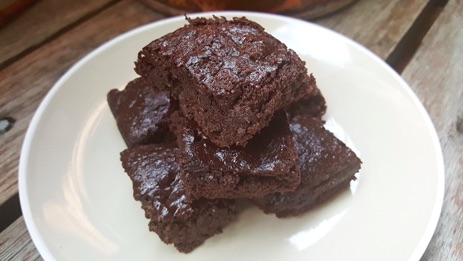 In episode 15 of More Than Good Food, Caitlin McCarthy and I explore the concept of happiness. She is one of those people that when I think of joy, she comes to mind. In case you missed the podcast, you can listen here:
Her recipe
Caitlin shared with us her recipe for Delicious Fudgy Brownies. As soon as I read her description, my mouth started watering! I was also super excited to try cooking with a new vegetable (or is it a fruit?).
The only thing I really need to say about these brownies is that you TOTALLY need to try this recipe – it'll be the best decision you make today! Hehe!

They're fudgy, melt-in-your-mouth, very minimally sweetened (don't let that put you off!), vegan, paleo, lower carbohydrate, have some good fats in there and there's even a hidden vegie – plantain!

If you've never heard of plantains, they look like a large banana, and can be used both when they're green and when they're yellow. They're a staple in tropical regions of the world and are high in potassium. You can find them in Asian grocers and Wholefoods.

Go on, you know you want to!!
This recipe makes 1x 20cm pan
Ingredients
1 x 100g 85% dark chocolate bar, chopped
1 Tbs cacao powder
2 Tbs nut butter (needs to be quite runny)
3 Tbs coconut oil
¼ Cup coconut syrup (or liquid sweetener of choice)
½ tsp vanilla powder
1 yellow plantain, peeled and sliced
¼ tsp baking soda
Instructions
Preheat oven to 180°C/350°F.
Grease a 20cm square baking tin with coconut oil and then line with baking paper.
Place the plantain in a food processor.
Combine chocolate, coconut oil, nut butter, coconut syrup, cacao powder, and vanilla in a small saucepan.
Melt, stirring, over low heat. Be careful not to let the chocolate burn!
Remove from heat and pour the chocolate mixture into food processor.
Process until smooth.
Add the baking soda and process until mixed.
Pour the batter into the baking pan and bake for 25 minutes.
Let cool a few minutes and enjoy!
Caitlin's notes
I haven't tried it, but I'd imagine maple syrup would be delicious in these brownies too!
Almond butter, peanut butter (not paleo), cashew butter and macadamia butter would be best when choosing a nut butter for this recipe as they're naturally quite sweet!
About Caitlin
Caitlin McCarthy is an Accredited Nutritionist, Transformational Coach and founder of The Sensual Shift and caitlinfordmccarthy.com. She works with women all over the world and teaches them how to drop the drama, the body hate & the self-abuse and how to connect to their desires, trust their intuition and live their TRUTH. Her movement inspires women to create abundant lives that light them up by owning their exquisite beauty & strength.
(Visited 419 times)