Brooke the Cook
Food lover and Jam maker
Welcome! My name is Brooke and I love to cook, hence the nickname. I am passionate about eating for pleasure and nutrition. If you love delicious meals and care about being healthy, this is the place for you!
I have been writing about food for quite a few years as a hobby. It all started when I got hooked on The Pioneer Woman by Ree Drummond. She cooks with real butter and her photography is amazing. This site was inspired by her blog format. I originally started this blog in 2009 and wrote a few words about why:
I have a shelf of cook books, another shelf of cooking magazines, I subscribe to several cooking blogs, I even have a Gmail label for recipes! Yet with all these resources, I end up making the same meals over and over again. Why? Because I know them by heart, I know they taste good and I know Steve will eat them.
Read more »
In 2015 I decided to get a facelift – figuratively. This site has given me an opportunity to record new recipes and review ones written by others, and write about healthy living and inspiration.
I post a new recipe and weekly plan once a week. Subscribe to my newsletter to make sure you receive recipes, planning tips, and my FREE gift to you: 3-day Post-holiday Reset Program. It's quick, easy, and you can unsubscribe at any time. I will never share your information.
Jam in Jars
This year, I entered jams in the Rockton Word Fair for the very first time. My blueberry-onion compote and yellow-tomato chutney both got third place ribbons. That's a picture of me holding the box of jams. I admit – I was bursting with pride.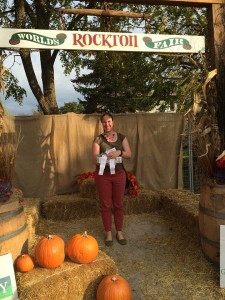 Jam in Jars is my passion. I write new recipe ideas during the summer months, when the harvest is ripe.
Small batch jam making is an art and a passion. Start with a handful of fruit, citrus and sugar, cook slowly. It makes 3-6 cups of jam per batch. The advantage of this process is complete control over the quality of the produce, addition of spices and consistency of the gel. You get a rich tasting jam with caramel undertones.
I make sweet and savoury jams, and pickles, an assortment of preserves that have a myriad of names: coulis, compote, relish, chutney, etc. They all taste good. You can find my jam recipes on the page about Jam in Jars »
What else about me?
What else might you want to know about me as a person? These are a few of the things that came to mind.
My education is in Engineering. I have degrees in Engineering Physics and Engineering, Entrepreneurship & Innovation (MEEi). While working towards my Master's degree, I obtained a patent and co-authored two published papers. I realized research wasn't my calling and transitioned into finance and business management. For the past few years, I've taught an evening course for the Engineering & Management program in the fall term at McMaster University. My day job is in management, where I sit a lot in meetings.
I am a member of Soroptimist International. The highlight of my tenure was in 2013 at theUnited Nations 57th Commission on the Status of Women (CSW57) in New York City. The theme that year was Violence Against Women and Girls. There were so many tragic stories shared but the energy and optimism still carries with me today. You can read about my experience on the Soroptimist blog »
I am married to a wonderful man named Steve and we have eight darling nieces & nephews between our three sisters. In my free time, I enjoy cooking and writing (of course), Pilate's and Yoga classes, hiking and spending time with my friends.
My Contact Information
You can contact me via e-mail (brooke@ weekbyweek.ca) or follow me on social media.
Proud Member of:
Tasty Kitchen: happy cooking community
Some tech info about this site: Colophon
My blog is built on WordPress (self-hosted). I use the Neptune Theme, a premium WordPress theme from ThemeForrest. It is specifically designed for anyone who wants to publish recipes.
Many of the photos are from my personal collection. I also subscribe to FoodieFeed and Death to Stock Photo. The background image for this site is from Pixabay.com and the header image is from the Homestead collection, courtesy of Nicky Ovitt.
The associated domains for this site are:
ihighlyrecommend.ca and ihighlyrecommend.com
jaminjars.ca
brookethecook.ca (but not brookethecook.com – she lives in the US)
corechallenge.ca
brookeandsteve.ca (but not brookeandsteve.com – they live in the US)
For web hosting, I recommend Blue River Hosting. Their hosting is easy-to-use, reliable, and inexpensive. They have extremely helpful and thoughtful technical support. It is the only hosting service I personally recommend. I receive no affiliate benefit.
Affiliate Disclosure
Some of the links on this website are "affiliate links." This means if you click on the link and purchase the item, I will receive an affiliate commission at no cost to you. Those funds defer the cost of hosting this blog. Regardless, I only recommend products or services I use personally and believe will add value.
(Visited 1,121 times)