Consult Your Physician First with Dr. Jean Skillman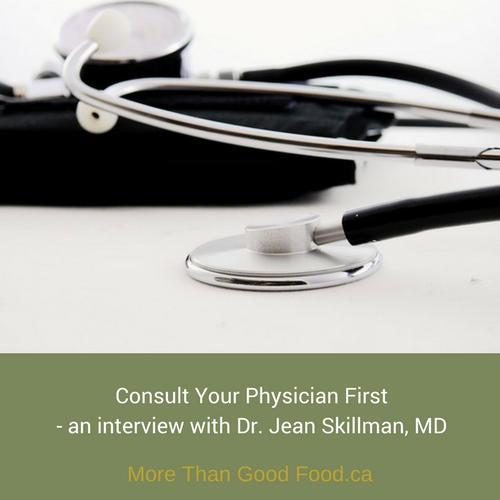 Advise we've heard from previous guests, as well as being commonly seen in indemnities, is to speak with your physician before starting any new program – physical, diet or otherwise.
Taking their advise, today I'll be speaking with Dr. Jean Skillman about what it means to live a healthy life from the perspective of a physician.

Jean graduated from the University of Western Ontario in 1971 and has been practicing as a family doctor ever since. Her career has included lead roles in long term care,  hospital settings, and chronic care,  and she has most recently specialized in providing home visits to those who are in a frail state and can't come to the Two Rivers Family Health Team clinic in Cambridge Ontario.
Jean has also been a passionate volunteer with Soroptimist International of the Americas for over 35 years – advocating to improve lives of women and girls through programs leading to social and economic empowerment. Their signature education and training award, Live Your Dream, has disbursed more than $1.6 million each year through cash awards at various levels of the organization. The Live Your Dream awards may be used to offset any costs associated with efforts to attain higher education, such as books, childcare and transportation.
For more information about volunteering to support women and girls, Soroptimist International is a global organization first established in 1921. Their advocacy work and on-the-ground projects directly contribute to helping women and girls access their human rights across the World. Their website is soroptimistinternational.org
(Visited 293 times)