Why does this taste like chicken?
6 Ideas to cook and use up left-over chicken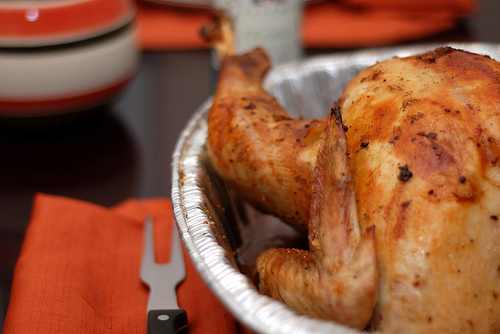 I betcha you've said the words "this tastes like chicken." I know I have! We ordered the obligatory, novelty appetizer while on a family vacation in Florida – alligator tail. It tastes like tangy chicken. What does that mean, exactly? I don't know how to describe it any better than that. We unanimously agreed that it tasted just like tangy chicken.
I thought maybe there's something to the expression. A common genome in chicken DNA or universal flavour that connects with our taste buds. Not surprising, there is a Wikipedia entry and a Myth Busters episode about this universal experience. The verdict is that chicken is bland; much like my family's experience with the alligator tail, "tangy chicken" is an analogy to something familiar.
6 Ways to cook chicken
Chicken doesn't have to be boring. It is an excellent source of lean protein (without the skin) and a versatile base for myriad recipes. Chicken breasts are incredibly easy to cook.
Brush 2-4 chicken breasts with olive oil and bake at 375F for 40-45 minutes. We use a grill pan and line the drip tray in foil for fast, no-mess clean up. Easy!!
Here are some other tried and true methods to cook chicken (parts or whole):
6 Ways to eat left-over chicken
There are so many delicious ways to eat chicken. Here are six recipe ideas that use cooked chicken. They are simple to assemble and very filling to eat. You can easily use up left over chicken to make lunch or dinner:
(Visited 94 times)