Muesli for breakfast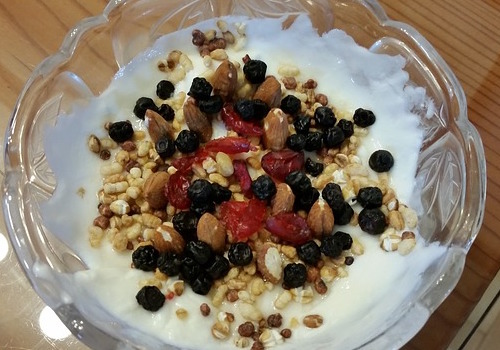 This recipe is by Nicole Akers from We Talk Healthy, who shared her story of living with a daughter who had severe behavioural issues due to food. Listen to the whole conversation on More Than Good Food.
Our breakfast cereal is Muesli. This recipe changes every time I make it. This time we used:
4½ lbs. mixed grains (5 grain cereal) from the bulk food aisle
3 cups walnuts, lightly chopped in food processor
3 cups almonds, lightly chopped in food processor
½ cup sunflower seeds-pick your seeds, I also commonly use pepitas (pumpkin) seeds
¼ cup wheat germ
2½ cups raisins, no sugar added
2½ cups currants, no sugar added
1½ cups dates, no sugar added, chopped by hand, run through the wheat germ before thrown into the mix
Yield: About 2 gallons, that's the size of my bowl, and it feeds my family of four for two weeks.
Here's how we make it in under five minutes with my 5-year old assistant:

On the rare occasion the kids make it to the kitchen first they can dispense their own cereal and you don't have to worry about what they are consuming. Our portion size is  ½ to 1 cup. Add some milk or yogurt and breakfast is served.
(Visited 475 times)