11lb turkey and roasted vegetables for two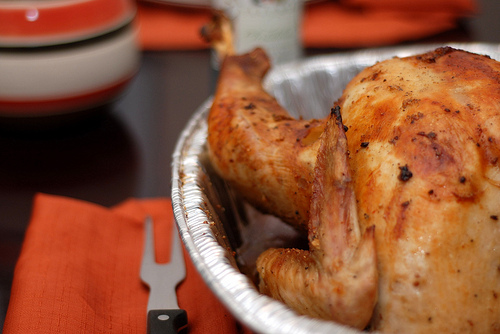 We had picked up a post-holiday turkey when they went on sale and decided to roast it this weekend. It's been defrosting for 4 days in the fridge (Thursday morning to Monday) but was still frozen on the inside. We ran warm water through until we could remove the neck & packet of organs. There are baby-potatoes, carrots and parsnip as a side dish.
We documented our first turkey back in 2010 : http://food.brookeandsteve.ca/2010/test-stuffed-turkey/
This time the plan was to stuff the cavity with 2 onions (quartered), coat with oil and savour beer-can chicken rub, flash sear it at 475F for 15 minutes, then tent the breast meat only and cook it for about 2 hours, 15 min at 325F. Outcome: legs were at 180F but the breast was at 160F. We raised the temp to 450F and put the bird back in (while the oven pre-heated) for 15 minutes. It came out at 175F but we wanted 170F plus 5F while resting. Seems to be cooked just fine although the legs didn't fall out of their sockets.
Carrots, potatoes, parsnips were roasted at 475F for 12 minutes, then flipped and cooked for another 5 minutes.
Note to self for next time:
we lined the roasting pan with foil (divided lengthways down the middle). Recommend putting a 2nd layer underneath – a single sheet to cover the bottom.
hight heat for 15 minutes; then tent the entire turkey with foil for the first hour at 325F; then tent the breast only for another hour and 15 minutes. Un-tent for the last 20 minutes to crisp the skin at high heat.
Very happy with how the veggies turned out. 2 baking sheets lined with foil (shiny side up); carrots on both, large parsnip halves on the bottom and mini potatoes on the top rack.

Photo Credit: raymondtan85 via Compfight cc
(Visited 107 times)