Amazing Curry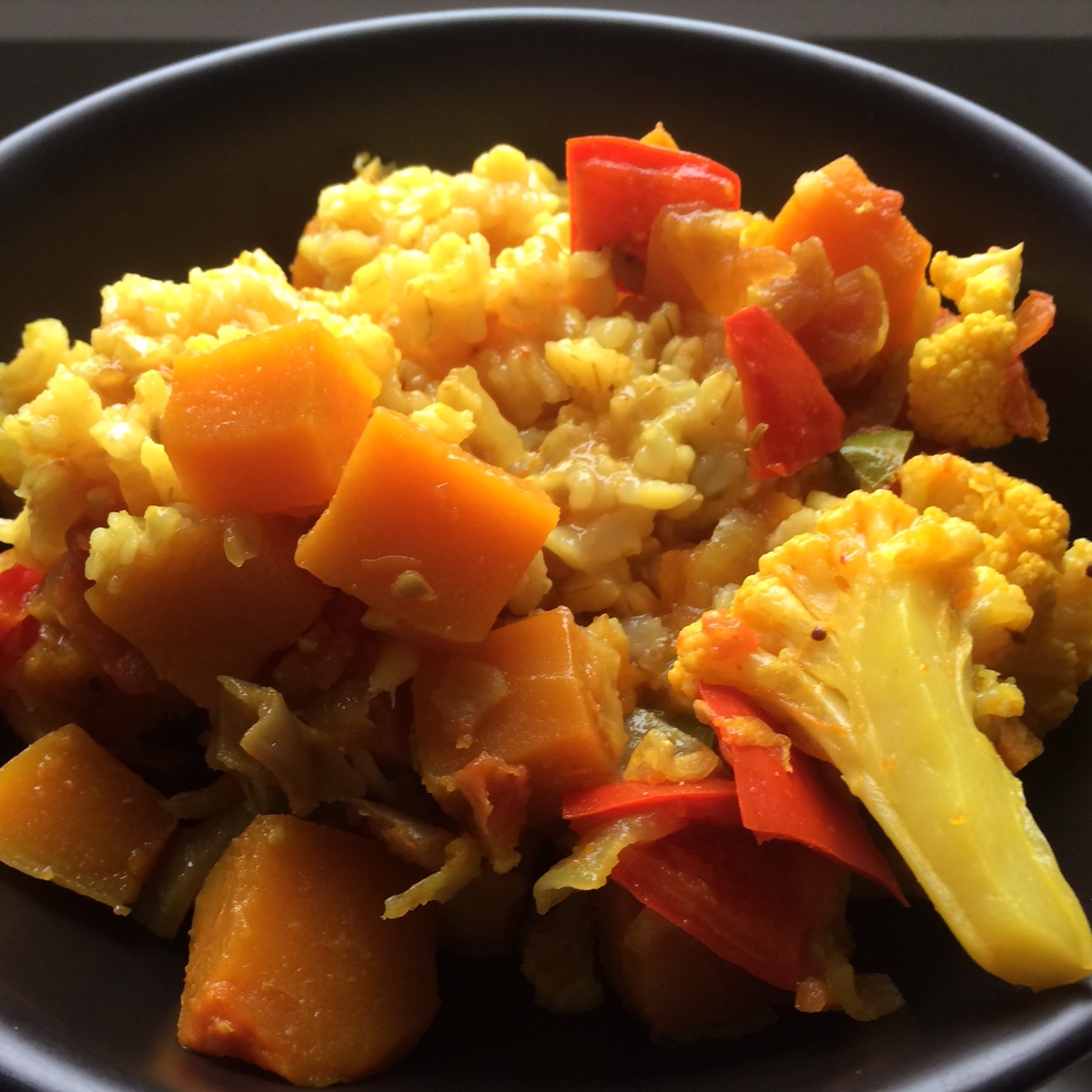 I had am amazing curry today that I planned for my lunches this week. Inspired by Chef Jamie Oliver from his Food Revolution book. Delicious!
I started by making a curry paste:
Spices for toasting:
2 tsp cumin seeds
1 tsp black mustard seeds
1 tsp fenugreek seeds
1 tsp coriander seeds
1 tsp black peppercorns
Toast in a dry pan until smelling delicious. Add toasted spices to a pestle and mortar and grind (or whiz to a powder into a food processor). Then add spices to a food processor along with the following ingredients, and pulse until you have a smooth paste:
2 cloves of garlic, mined
1 thumb-size piece of ginger, grated
1 teaspoon tumeric powder
pinch sea salt
2 Tbs grape seed oil
2 Tbs tomato paste
1 fresh green chill, seeded and chopped
Start 1 cup of basmati rice. I use a rice-cooker.
This week I made paneer for the first time. Gosh it's easy:
1 litre milk
2 tsp lemon juice or vinegar
It's simple to make and takes less than 30 minutes to complete. Chop when done and add to the curry.
Boil the milk. Then add the lemon juice or vinegar.
As soon the milk completely curdles, remove from the heat.
Strain the milk in the cheesecloth and drain the whey.
Gather the cheesecloth together. Place it on a plate and keep a heavy weight on top. Check after 30-40 minutes. Cut into cubes when complete.
For the curry dish:
1 medium onion, chopped
1 fresh chill pepper, seeded and finely chopped
a thumb-size piece of ginger
2 cloves of garlic
2 red bell peppers, seeded and chopped
3 ripe tomatoes, diced
1 small butternut squash, seeded and chopped (skin on)
2 small zucchini
2 Tbs balsamic vinegar
½ lemon, squeezed
2 chicken breasts, cubed OR 1 can of chickpeas
Sweet peas
Put a large casserole pan on medium-high heat. Cook the onions, garlic and ginger for 10 minutes, or until golden and soft. Add the remaining ingredients, and the paste plus ½ cup water. Simmer for 30 minutes with the lid on. When the chicken is tender, stir in 1 cup peas and squeeze over with lemon.
I layered the curry, rice and paneer in a casserole dish. It was enough for 4-6 servings. A fair bit of kick – enough to know you've eaten something and certainly enough to feel full. I just loved it! Shown above with steamed cauliflower.
(Visited 353 times)