Green Apple Salad
A family favourite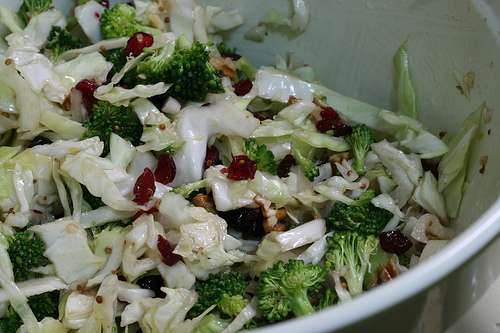 Steve made dinner on Valentine's day. He had rushed home early to get this salad started and in the fridge. This was a side dish to stuffed pork and appeared simple to make. Well, let me tell you, we raved through the whole dinner – it was absolutely delicious and we (he) must make it again, preferably soon!

To make this salad, you start by making the dressing:
1 cup combined: mayonnaise or whipped dressing and plain low-fat yogurt (proportions to your taste)
2 Tbs sugar
¼ cup apple cider vinegar
1-2 bunches broccoli, cut to make about 4 cups of florets
½ cup purple onion, finely diced
½ cup raisins
1 apple
Core and chop the apple and coat with dressing to avoid browning. Add the broccoli, onions and raisins and toss to coat. Refrigerate salad for a few hours before serving. Garnish with fine strands of carrot or sliced almonds just before serving.
(Visited 106 times)