Cutting back on your burrito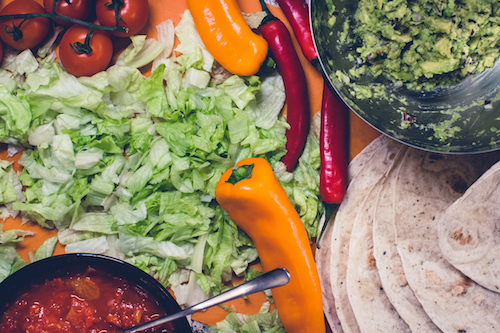 This weekend I was helping my sister get ready for dinner guests. She delegated cutting tomatoes and lettuce to me while my other sister got to grate cheese. Here are some great tips from an article on how to reduce the calories in your burrito (or taco):
Replace ground beef with ground round or ground turkey. If you don't want to swap your ground beef for turkey, brown and drain the meat. Then place the beef in a colander and rinse well with hot water. This method reduces both fat and calories. Adding beans (or low-fat refried beans will also add protein).
Use fresh tomatoes or canned tomatoes labeled "no salt added" and add lettuce — the colors are appetizing, plus they add flavor without all the extra calories.
Use corn tortillas, which have less sodium, instead of flour tortillas. Instead of tortillas, enjoy 100% whole-wheat pitas.'
Make your own guacamole with fresh tomatoes, beans, corn, avocados, and onions. I even make my own seasoning without salt.
For a side dish, serve red beans and rice or Spanish rice. Sometimes I even add the rice to my burrito to cut down on the amount of meat.
Make your own tomato or vegetable salsas, using fresh ingredients and adding spices such as chipotle chile pepper.
Add a dollop of non-fat yogurt instead of sour-cream.
(Visited 33 times)