Pumpkin Loaf
Meaghan and Tim stopped by with a special treat – mini pumpkin loaf in the shape of a star. She had picked one up at Frootogo, steamed it, pureed it and kindly shared the fruits of her labour. It was moist and not too sweet and I loved it!
Apparently she got a carving pumpkin, which aren't as sweet, so she added some extra sugar and brown sugar was sprinkled on top. She found the recipe on Pick Your Own. It includes variations for "canned" pumpkin instead of fresh »
2 cups of fresh cooked pumpkin
3 ½ cups all-purpose flour (not self-rising flour)
2 tsp baking soda
3 cups sugar
4 eggs, beaten
1 cup vegetable oil
1 ½ tsp salt
2 tsp cinnamon
2 tsp nutmeg
½ tsp allspice
½ cup water
Makes 2 loaves or 2 dozen muffins.
Preheat to 350F. Lightly grease and flour 9×5″ loaf pans or muffin tins.
Mix dry and wet in two separate bowls. Add wet to dry and stir until just mixed.
Bake 1 hour for loaves, 20-25 min for muffins. Let cool 10 min before removing.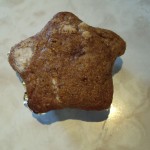 (Visited 54 times)