Bannock for Breakfast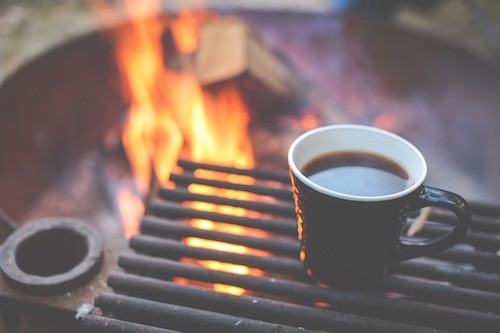 Bannock is one of Christie Ellinger's favourite recipes to make when camping because the ingredients are simple, it packs small, and is easy to switch up with different additions like cheese or dried fruit. She will make it at home too when looking for something different for breakfast or feel like something sweet without the work of baking cookies (that's my kinda recipe).
Christie has adapted this recipe from The Paddling Chef by Diane Weimer, an avid kayaker from Vancouver BC.
Although her original recipe is very good I have adjusted the recipe and how we prepare it to suit our tastes and make prep a little easier (e.g. instead of kneading the dough on a flat surface we just knead it in the zip lock bag for less mess and easy clean-up).
Ingredients
1 cup all-purpose flour (gluten free: ¾ c GF flour, ¼ c almond meal or ¼ c ground flax)
3 tsp baking powder
½ tsp salt
1 tbsp. sugar
3 tbsp. butter
½ cup water
2 tbsp. butter for the pan
Directions
Combine dry ingredients at home and put into a zip lock bag. (Alternatively, if making at home, combine into a bowl).
Add the butter to the bag of dry ingredients and smush it all together in the bag to form a crumbly mixture. (If using a mixing bowl, use a fork to cut the butter into the dry ingredients).
Add water to the flour and butter mixture and combine in the bag (or bowl) to form a soft dough for a minute or two until smooth.
Heat a skillet over your stove. Add 1 tbsp. of butter and heat until just bubbly.
Transfer the dough to the pan with a spoon or directly from the zip lock bag by turning it inside out and smoothing it out with your fingers or a spoon to desired size.
Cook until browned.
Lift up one side of the bread with a spatula and place the last tbsp. of butter in the pan letting it melt and spread then turn the bannock over to brown the other side.
Cover the pan and cook for a few minutes until the dough is cooked through.
Variations
Sweet: mix into the dough ¼ cup of raisins and a sprinkling of cinnamon to taste
Hardy: mix into the dough chunks of cheddar or other cheese
Savory: sauté finely chopped onion and/or bacon in the pan prior to adding the dough on top
For more camping tips and tricks, you can hear Christie on More Than Good Food, the podcast »
About Christie
Christie Ellinger is a body geek, nature nut, and lover of all things movement and food.  After studying and working in Environmental Management for 14 years, she made a career change in 2008 to teach Pilates and Integrated Movement Therapies at her own studio and eventually evolved into a Movement and Healthy Living Coach.
Christie is passionate about inspiring and educating women who are tired of being tired and stressed, and struggle to find time for exercise and eating well, to think outside box.  She believes we all possess the power to make simple and lasting changes that allow you to live a happy, healthy and dynamic life – it starts with creating awareness about who you are, where you are, and what you want to achieve.  Her mantra "move freely, breathe easy, and live fully" is not always easy to live by but serves as a great reminder to keep things simple, live life on your terms and appreciate everything it has to offer.
When she's not enjoying the great outdoors, Christie can be found tending to her veggie garden, looking for trees or playgrounds where she can climb and hang (who says playing is just for kids?), or indulging in a little Netflix and dark chocolate on a lazy rainy day.
Christie is on a digital detox for the summer of 2017 with a social media break but you can find her on facebook at Christie Ellinger Movement Coach or at dynamicbody.ca
(Visited 824 times)