Clean Food Staples You Should Have Around At All Times
What are the main staples that you store in your kitchen?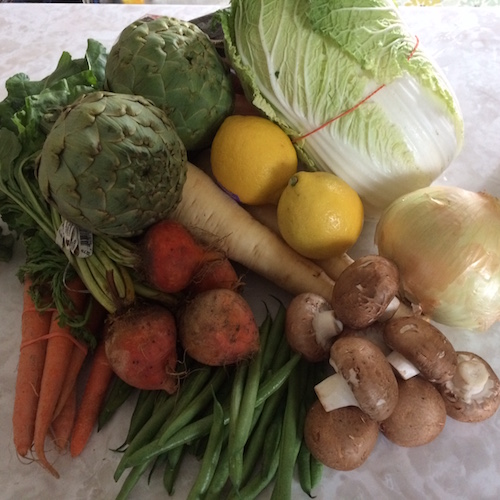 Today I'm starting the 21-day Hot Detox with Julie Daniluk. All I needed was some rolled quinoa flakes and my organic fruits & vegetables. Everything else I already had on hand. As a result, my total costs were about $60 for the whole week.
The secret to sticking to a clean diet is to make sure you always have something in the house that makes it easy to fix meals and snacks. It's easy to get tempted by fast food, takeout or even the convenience food section at the grocery store when you're hungry with no easy to prepare food in the house.
Staples are normally defined as Pantry Items or Dry Goods. Keeping them on hand for quick and easy clean meals also saves money by amortizing the cost on an as-needed-basis, rather than unexpected large grocery bills.
> Having things like rice, oats and almond flour on hand helps whip up quick and filling side dishes and breakfasts.
> Keep a bag of potatoes, onions and garlic on hand and you can whip up some quick dishes with just a few fresh vegetables from the fridge.
> I like to keep tree nuts, seeds, naturally sourced honey and unsweetened dried fruit that make great additions to oatmeal in the morning and almonds are perfect for snacking. Add to your fridge some seed or nut butters and you're good to go.
> Dried Herbs and Spices are an important addition to the flavour palette of any meal. Cinnamon, ground ginger and tumeric are always on hand in my cupboard. Be daring and experimental. Some spices are available in bulk to test out at a low cost. You can also grow commonly used herbs in pots for small amounts of fresh greens.
> If you're including whole grain products in your menu, keep whole grain (non-wheat) flour, lentils and quinoa on hand in the pantry. This makes it easy to bake a batch of homemade gluten free bread with added seeds. And of course lentils cooked in homemade broth with some fresh vegetables always make for a quick weeknight soup.
Hit reply – what are the main staples that you store in your kitchen?
(Visited 40 times)