Too much turkey leftovers?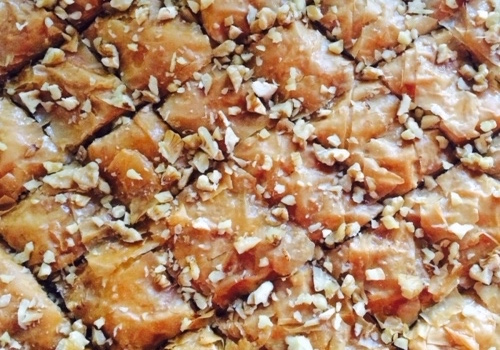 Easter was relaxing and joyful. My sister-in-law brought walnut Baklava. Similar to the overwhelming desire to eat all her pumpkin bread, it was again a challenge to balance roast turkey and stuffing while leaving appropriate room for Baklava. I thought I managed quite well: there were left overs for everyone to take home (aka I did not eat all the delicious dessert!).
We now have a huge dish of turkey. In years past, I made homemade turkey soup because it's easy to freeze. This year, I decided to try something new.
Inspired by the bounty of root vegetables at Snarky Acres of sunchokes, potatoes, and turnips, I created a cottage pie recipe. It combines the rich filling of shepherd's pie with an abundance of turkey left-overs, and is topped with low-glycemic white root vegetables to balance the body. This recipe has a vegetarian alternative, no tomatoes, and can easily be adapted as Gluten Free. Get the full recipe from the Snarky Gardener »
Do you have leftovers from the weekend? Click reply or post a comment with your favourite way to use them up?
Photo Source: my personal collection. Baking compliments of my sister's patience.
(Visited 155 times)