Jalapeno Jelly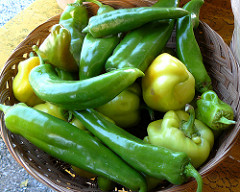 I was given a basket of jalapeno peppers and wasn't sure what to do with them! I considered making a jelly and found this spicy apple butter recipe that sounded right up my ally but I adapted the recipe slightly:
Sweet Little Jar of Red Hot Stuff – Pepper Jelly
Red Hot Pepper Jelly
1.5 cups hot peppers – 1″ sized pieces, trimmed and seeds removed
1 cup Red Bell Pepper  chunks
2 apples, cored and chopped
1 Cup apple cider vinegar
2 Cups sugar
Puree the peppers and apple. Combine in a saucepan with the cider vinegar and bring to a boil and cook for 10 minutes to break down the apple. Add the sugar and cook for 20-30 minutes, testing the set with a frozen plate. Seal in ½ cup jars for 10 minutes, or 1 cup jars for 15 minutes. Do not seal in pint-size jars.
Combine with a blend of cream cheese and goat cheese and serve with crackers and dried sausage.
Photo Credit: sea turtle via Compfight cc
(Visited 102 times)