Gluten Free flour mix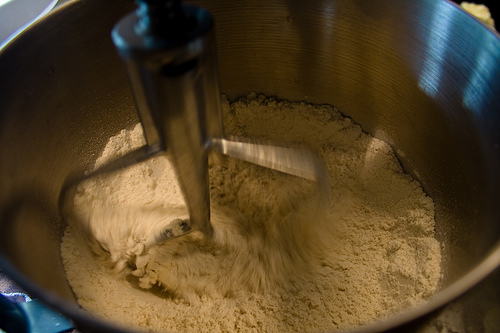 It's been ages since I've posted. A variety of things – challenges with work-life balance primarily. It's lead to some unfortunate health issues and a lack of posting. One of those issues is the inability to digest wheat without digestive pains.
Steve has fallen for the PC brand GF chocolate chip cookies, which he didn't know was GF. Last night for Valentine's dinner we had "mucho tacos great" with Stirling Vinter collection, Cabernet Sauvignon. We then watched The Croods with a mid-movie break to make cookies (stuffed with Reese Chipits™). Delicious!
Today I decided to enjoy the long weekend by making a quick-bread. I wanted to explore using up some of the flours in my pantry. I found a great blog that suggests a ratio by weight of 40% protein (whole wheat, nut or bean) to 60% starch. I used Sourgum, corn starch and arrow root. She recommends 140g of the blended flour for every 1 cup of all purpose flour.
Coconut flour absorbs water and requires considerably more eggs to get the right binding. I don't recommend it for baking, but it is an excellent gravy thickener.
She suggests "a tablespoon of ground flaxseed that is soak in one tablespoon hot water into your recipe" rather than xanthum gum. I already bought some so I'll use it up first. Bob's Red Mill suggests:
¼ tsp:1 cup for cookies
½ tsp: 1 cup for cakes
¾ tsp: 1 cup for muffins and quick breads
1 to 1½ tsp: 1 cup for breads
2 tsp: 1 cup Pizza crust
Reference: http://glutenfreegirl.com/2012/07/how-to-make-a-gluten-free-all-purpose-flour-mix/
Photo Credit: MiiiSH via Compfight cc
(Visited 48 times)