slow-cooker pulled pork with molasses sauce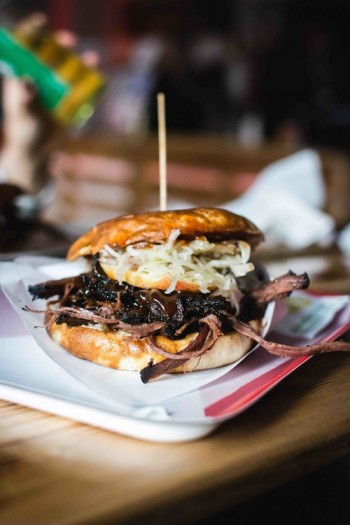 This was fantastic! Lasted the whole of last week – easily 8 servings.
Purchase a boneless pork shoulder, 4lb (2kg), cut into 3 equal parts. Ours had a small bone that needed to be cut out.
In a large frying pan over medium-high heat, warm the oil. Add the pork pieces and brown on all 6 sides, about 2 minutes per. Transfer browned pork to the slow cooker.
yellow onion, finely chopped
Pour off most of the oil from the pan. Add onion and saute until golden, about 5 minutes.
Deglaze the pan with vinegar and then simmer the following ingredients until it starts to bubble:
¾ cup cider vinegar
¾ ketchup
1/3 cup brown sugar, packed
1 Tbs Worcestershire sauce
1 tsp dijon mustard
Pour sauce over the pork, and the add to the crock pot:
¼ cup light molasses
2 tsp red chili flakes
4. Cover and cook on high for 4-5 hours (or low for 8-10 hours). The pork will be very tender. Transfer to platter. Simmer the sauce on high to thicken slightly and shred while still warm using 2 forks. Discard any large pieces of fat. Return pork to sauce and stir to combine.
Serve over soft rolls. I added fine slices of cucumber and Steve added greek yogurt to the bun. We served it with a large vegetable salad – cucumber, tomatoe and red pepper with feta.
Photo Credit: FoodiesFeed.com
(Visited 78 times)