Soroptimist Leadership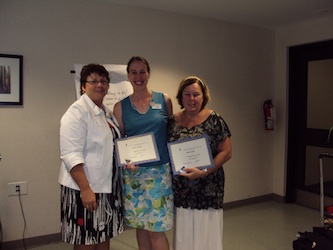 Shirley and I attended a long but fun weekend on leadership, hosted by Soroptimist. On the Saturday night, one of the organizers served a "Savory Pumpernickel Round" that disappeared before the buffet had finished! It was absolutely delicious and she kindly shared this recipe, which she also got from a friend:
2 large pumpernickel rounds
Filling:
2 cups shredded Asiago cheese
500 ml mayonnaise
500 ml sour cream
3 cloves of garlic, chopped fine
1/2 cup chopped sun-dried tomatoes (or more to taste)
1/2 tin artichoke hearts, chopped fine
Mix all filling ingredients together.
Hollow out one large pumpernickel round. Fill pumpernickel with filling and bake in oven at 350º F for 40 minutes.
Meanwhile, cut pumpernickel removed from first round plus the extra round into chunks for dipping.
Enjoy!
(Visited 46 times)