Homemade Granola Bars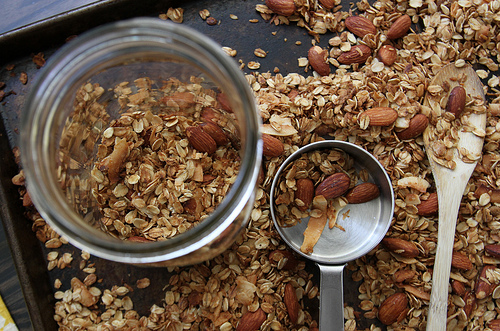 I was on a hunt today through my reader and found a new blog that I had never heard of! The Shortbread Bakery for all dietary needs (fat free, gluten free, vegan, lactose intolerant, and kosher). This is her granola bar recipe:
Ingredients for No-Bake Bars:
1 ¼ cups rolled oats
½ cup oat bran
1½ cups cereal of your choice (preferably unsweetened)
1 cup dried cranberries, coarsely chopped
¼ cup dried fruit of your choice, finely chopped (she uses dried ginger)
1 ¼ cups toasted walnuts, chopped
1 cup maple syrup
¼ cup natural cane sugar
1 tsp vanilla extract
½ teaspoon salt
Directions:
Spray a 8×8″ pan with spray for thick bars (use a 9×9″ pan if you like them thinner).
Mix the oats, walnuts, oat bran, cereal, cranberries, and dried fruit together in a large bowl and set aside.
Combine the syrup, sugar, vanilla and salt and heat over med-low heat until dissolved (about 4 min). Stir into oat mixture while still hot.
Spread into pan and let cool over night. CUT, EAT, ENJOY! Makes 16 squares.
Looking for several similar recipes on SparkPeople, I think they're around 200 Cal per bar. It's basically a power-bar so eat them wisely – I suggest freezing them so you don't feel compelled eat them all in one go.
I also came across this Spark Recipe (to help me finish the butternut squash), but it has baking requirements:
Ingredients for Baked Bars:
¾ cup pureed pumpkin or butternut squash
1 egg
¼ cup butter at room temperature
¼ cup honey
2 Tbsp molasses or maple syrup
2 cup rolled oats
½ cup seeds (like sunflower or pumpkin) or raisins
½ cup chopped nuts (like walnuts, almond slices or pecans)
2 Tbsp shredded, unsweetened coconut
½ cup wheat germ
1 tsp pie spice
Directions:
Blend the wet ingredients in a mixing bowl or food processor.
Add the oats, seeds, nuts, coconut, wheat germ, and cinnamon. Mix well.
Spread this mixture into a lightly greased 15½ x 10½ jelly-roll pan.
Bake in a 350F oven for 40 minutes or until golden brown. While still warm, cut into 3-by-1 1/2-inch bars.
For very crisp bars, remove from pan to wire rack and cool completely. Makes about 30 bars.
Photo Credit: shutterbean via Compfight cc
(Visited 42 times)