Steamed artichokes
The plan for dinner is BBQ steaks (or fast fry beef) with artichoke, which I have never cooked with before, but love! My gf in highschool, Emily, used to have this for an appetizer when I came over and I just love it. At the time, it would have been part of the 100 mile diet, but alas, not here in Ontario. None the less, according to the California advisory board, the basic method to prepare, cook and eat is as follows:
1. Wash artichokes under cold running water.
2. Pull off lower petals which are small or discolored.
3. Cut stems close to base. ( Use stainless knives to prevent discoloration. )
4. Cut off top quarter and tips of petals, if desired. ( Generally, some people like the look of clipped petals, but it really isn't necessary to remove the thorns. They soften with cooking and pose no threat to diners. )
5. Plunge into acidified water to preserve color. ( One tablespoon vinegar or lemon juice per quart of water. )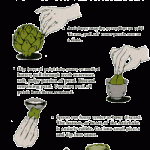 BOIL: Stand prepared artichoke in deep saucepan or pot with 3 inches boiling water (if desired, oil, lemon juice and seasonings can be added to cooking water). Cover and boil gently 25 to 40 minutes, depending on size, or until petal near the center pulls out easily. Stand artichoke upside down on a rack to drain,
STEAM: Place prepared artichoke on a rack above an inch or two of boiling water. Cover and steam 25 to 45 minutes, depending on size, or until a petal near the center pulls out easily.
(Visited 134 times)