Monfort Cravings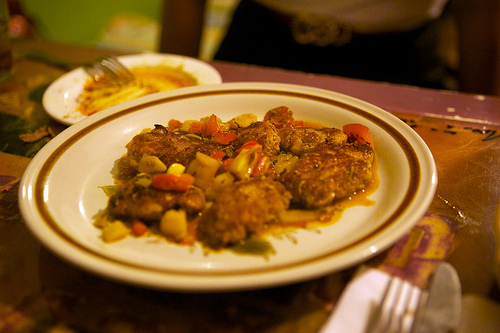 I know I'm not the only one who thinks their sauce is addictive. I found a recipe for both the garlic sauce and the tomato chutney that they serve. Here it is with a chicken recipe that is one of my favourites:
2½-3 lb whole broiler-fryer chicken
1½ tsp ground coriander
¾ tsp ground cumin
½ tsp each: salt, pepper, cardamom, cinnamon
1/8 tsp cloves
2 cartons (8 oz each) plain non-fat yogurt
1 Tbs each: paprika, lemon juice, grated gingerroot
1 small onion, finely chopped
2 cloves garlic, minced
½ c cucumber, seeded and chopped
1 Tbs diced pimiento, drained
1 can tomatoes, diced
1 medium onion, finely chopped
2 cloves garlic, minced
1 tsp grated gingerroot
2/3 c each: sugar and wine vinegar
¼ tsp each: salt, ground red pepper, ground cloves
½ c raisins
Okay, that was a lot of stuff to pick up, but keep in mind that this is addictive and totally worth it:
Chicken preparation: remove giblets. Loosen skin, rinse cavity and outside of chicken. Pat dry with paper towel. Tie drumsticks to tail, twist wing tips under back. Place in a plastic bag and set aside.
Tandoori Spices: Combine first set of spices together (coriander, cumin, salt, cardamom, pepper, cinnamon and cloves) in a small bowl. Mix well.
Marinade: Combine 1 Tbs of the spices with 1 carton of yogurt, paprika, gingerroot and lemon juice. Pour over chicken in the bag. Seal and chill anywhere for up to 24 hours (minimum 4 hours)
Garlic sauce (oh! so good): In small saucepan cook onion, garlic and remaining spice mixture in  2 Tbs water for 5 min. Do not drain. Cool. Stir in remaining yogurt. Cover and chill. Stir in cucumber and pimiento. Serve with chicken.
Chicken again: Discard marinade. Place bird, breast side up in a roasting pan (on a rack if you have one). Insert meat thermometer in a thigh but don't touch the bone. Roast, uncovered, at 375F for 1-1½ hours, or until done (185F) and the juices run clear. Serves 6.
Tomato Chutney: Combine tomato with juices with the second set of onion, garlic and gingerroot in a medium saucepan. Stir in vinegar, sugar and spices. Bring to a boil, reduce heat and simmer, uncovered, for 30 minutes or until thick, stirring frequently. Stir in raisins and heat through. Remove from heat (it will thicken more upon cooling). Store in a covered container for up to 3 weeks. Makes 2 cups.
I stir any left-over garlic sauce into Pankaj's Rice to keep it moist for the next day and wow! Delicious and filling and did I mention delicious!
(Visited 2,312 times)