4 Quick and Easy Pasta Recipes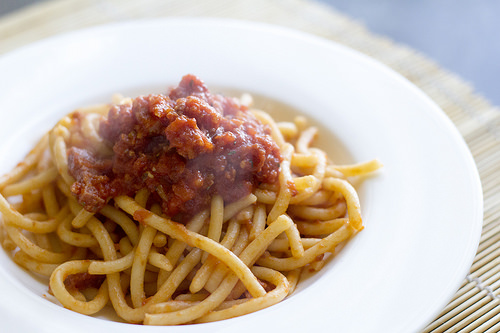 Pasta is an Italian cuisine that has become world's famous. It consists of noodles that are available in raw form in the market. These pasta noodles can be cooked at home and combined with different ingredients according to taste. A pasta is a complete meal in itself and can be eaten at breakfast, lunch or dinner. Pasta is undoubtedly become a staple for many people for many reasons; it is easy on pocket, does not take much preparation time and can be served in many ways. We have combined 4 quick and easy pasta recipes that can be prepared in no time. These recipes are sure going to help you if you are picky eater, a parent or simply if you are looking for great dinner ideas.
1.     Pasta with Spicy Shrimp:
This pasta is ultimate seafood favorite pasta. If you are white meat lover then this one is surely for you. Gets ready within 15 minutes and serves 4 people.
Ingredients: 12 oz Angel Hair pasta, 1 tbs olive oil, 2 finely chopped garlic cloves, 1 pound peeled shrimp (medium), ¾ cup dry white wine, ¼ tsp red pepper (crushed), salt (to taste), 2 tbs butter.
Directions: Cook and drain pasta. Heat the oil on medium heat and cook the garlic cloves into it (until golden brown). Now add shrimps, wine, red pepper and salt. Cook the shrimps for 2-3 minutes and then add butter. Toss the pasta and serve immediately!
2.     Bacon and Egg Pasta:
This Bacon spaghetti recipe combines eggs and cheese to bring out a creamy and thick flavor for your taste buds. Requires 25 minutes to cook and serves 4 people.
Ingredients: 12 oz spaghetti, 4 large eggs, 8 slices of bacon, 2 oz grated parmesan cheese, salt and black pepper (to taste).
Directions: Cook pasta and drain. Reserve about ½ cup of water while draining. Cook bacon on medium heat until crisp appears (6-8 minutes). Cook the eggs in a pan for about 4 minutes, the egg whites should be cooked but the yolks should be runny. Add the cooked pasta into bacon. Add Parmesan, salt and pepper. Divide the pasta into 4 bowls and top with eggs.
3.     Marconi and Cheese:
This is most easy and simple pasta recipe ever known. At the same time it is full of flavor and is a cheese lover's dream.
Ingredients: 5 tbs butter,  1 pound elbow macroni, ½ cup flour, 1 cups milk, 1 and ½ cup Cheddar cheese (grated), cayenne pepper, salt (to taste), 8 ounces Gruyere.
Directions: heat oven at 400F and prepare a baking dish. Cook the pasta. Melt butter on medium heat and add flour. Stir continuously (for 2 min), the flour shouldn't be darkened. Add milk and stir occasionally for 2-3 min. Add Gruyere, Cheddar, pepper, salt and cook until the cheese has melted. Mix in the pasta and bake for 25-30 min.
4.     Last minute Pasta:
This last minute lasagna will never let you down. It is quick to make and serves 6 people.
Ingredients: Jar pasta sauce, 2 30-ounce bags of ravioli (unthawed), 10 ounce frozen thawed spinach, 8 ounce mozzarella, ½ cup parmesan 9 (grated).
Directions: Heat oven and prepare a baking dish. Arrange ravioli in the dish and scatter spinach over it. Top cheese and repeat layers. Finally, put in baking oven for 25 min.
(Visited 87 times)