Kale & Pineapple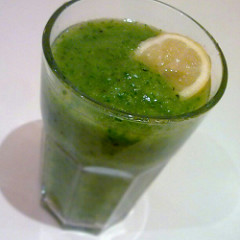 My supervisor had highly recommended Kale and Pineapple so I tried it this weekend. Wow! She was right.
1 handful baby organic kale (or spinach)
1/6 pineapple, chopped
1/4 cucumber, chopped
1-2 tsp chia seeds
1/2 tsp plant sterols (I use non-GMO New Roots powder)
1 tsp chlorella or spirulina (blue-green algae)
1 Tbs of flax oil (I use UDO 3:6:9)
1 cup coconut water (or water)
1 scoop of protein powder (recommend New Zealand Whey)
Makes 1 serving but if you use a box of organic kale and a whole pineapple, it would be 4-6 servings.
I put it all in a blender until smooth. Enjoy!
(Visited 48 times)